fills you with joy
if a blade of grass springing up in the fields has power to move you,
if the simple things in nature have a message you understand, Rejoice, for your soul is alive.
-Eleanora Duse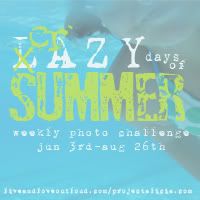 Water standing on our newly stained deck. Water is organic right?
I hope you all have a wonderful Friday. Come back later for more photos from our painting.
Here is my Edit Me.
I opened it up in Lightroom and ran my Clean Lightroom Preset. Then I opened it up in  CS5 and ran some Pure Haze actions.